Indore traffic cop, Ranjeet Singh who moonwalks his way to manage traffic on the busy streets of Indore to make sure that people obey the traffic rules has actually become an internet sensation now with 50, 000 people following him on Facebook.

You can believe 38-year-old Ranjeet Singh's popularity in India with increasing followers on his social media account and praising him all the way.

Indian traffic cop Ranjeet Singh has become a social media phenomenon with nearly 50,000 people following his activities on Facebook. Singh claims the number of traffic violations at the intersection where he spends most days has fallen over the years. https://t.co/kXf82goEaW pic.twitter.com/jeUzZxQTDP

— AFP news agency (@AFP) December 28, 2017
After Ranjeet's amazing YouTube video went viral, his popularity has reached new heights and people have started gathering to watch him on the road. People of Indore say, heads turn and drivers cannot fail to notice when the dancing cop moonwalks across busy intersections while avoiding rickshaws and trucks in the centre of Indore.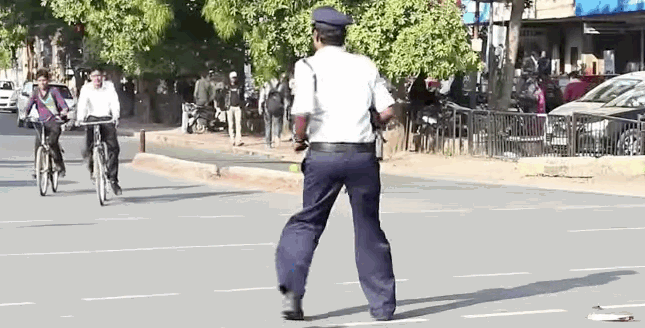 Ranjeet claims the number of traffic violations where he spends most hours has fallen over the years, initially people were surprised but it worked wonders over the years in a city of two million people.
Singh says, "I have been a Michael Jackson fan for years and copied his moonwalk step to halt traffic 12 years ago,"
"It`s a tiring task maintaining traffic amid noise pollution and reckless motorists but moonwalking amuses commuters and drivers," he adds further.
Ranjeet also said, "I have picked up the bodies of over 40 youngsters after accidents over the years and I feel terrible. I just want youngsters to stay safe and follow rules."

Ranjeet's efforts are not going in vein as he has not only improved traffic condition but also inspiring people to follow traffic rules and take initiatives. People on social platform are praising his stint and his good intentions.
This happens only in India!!! 👌

— SIDAARRTH SHINDE (@sidaarrthshinde) December 28, 2017
This, people, is called enjoying the work you do. Mr Ranjeet Singh, traffic cop, Indore, India. Via @AFP pic.twitter.com/4044dJESr8

— Sunny Bindra (@sunnysunwords) December 28, 2017
HIGH COURT SQARE
My most favourite traffic signal where I love to stay u can see Dancing Cop Ranjeet Singh here
Superstar of Ind#SMTDindore pic.twitter.com/pnJkvCkq2W

— Anchor Pankaj Verma (@poison_pankaj) September 4, 2017
Team #Dishoom moonwalk with Indore legend – traffic cop Ranjeet Singh. #DishoomChallenge @TheJohnAbraham pic.twitter.com/VNns6fGvzh

— Eros Now (@ErosNow) July 24, 2016
An Indian university is studying his methods to see whether he has cut traffic jams too. We are proud of Ranjeet Singh and need many more responsible citizens like him to make India better.